Student Spotlights
Student Spotlights
Student Spotlights
Rowan graduate students are doing amazing things both on- and off-campus. Below are some spotlights of recent graduate students and graduates:
If you want to nominate yourself or someone else to be featured, e-mail us at graduatestudies@rowan.edu 
Nhadjah is currently in the last year of her Master's program in which she has been recognized as a high-achieving student through the National Honor Society of Graduate and Professional School Students. She also recently began an internship at Total Family Solutions as a Therapist Intern. Although she is busy in her academic life, Nhadjah maintains her job as a Behavioral Assistant through Caring Counselors Inc. where she works in-home with youth and adolescents. 
Arbaz works full-time as a software engineer at Lockheed Martin. Arbaz and his team work on a data analysis platform where they work on different and efficient ways to hold, maintain and analyze data, both big and small. They also work on different ways to help users visualize their data. This can be through an external tool like Tableau, their own internal tools, or their own website we developed from scratch!
Brianna has created an Indigenous Studies minor at her alma mater,, Montclair State University. She travels throughout New Jersey to educate people about the three Native American tribes in New Jersey. She is currently working on her thesis that will highlight the racist tactics the state of New Jersey has used on her tribe, the Nanticoke Lenni-Lenape Tribe of South Jersey regarding their state recognition. Brianna works at three museums achieving many different things. At the Penn Museum in Philadelphia, she educates people on the Lenape tribe. At the Cumberland Prehistoric Museum, she works and has been able to bring remains back to her tribe. At the Trent House Museum, she helps make educational videos about Native Americans to be put in New Jersey school systems.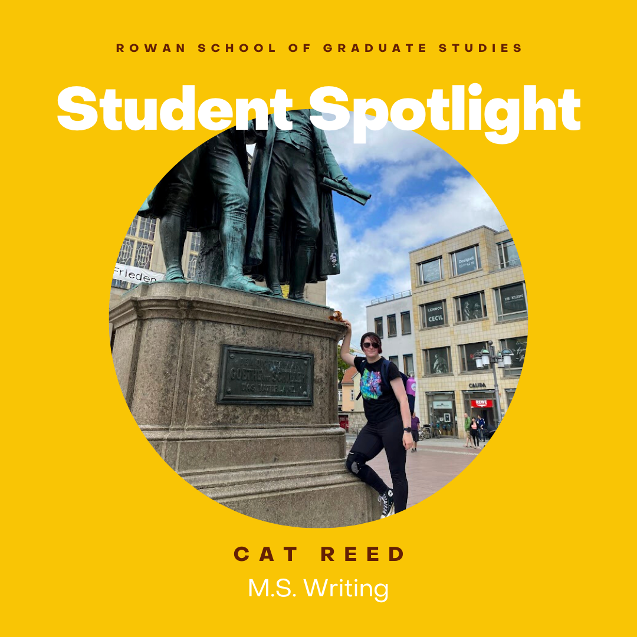 Cat Reed (they/them) graduated from Rowan College at Burlington County and immediately transferred to Rowan University (amidst the pandemic) to pursue a Bachelor of Arts. They majored in English with a minor in Creative Writing and a Concentration in English for Future Educators. Now, they are continuing their education at Rowan University to obtain a Master's in Writing. Cat Reed is closely connected with the Writing Arts Department programs having been published in Avant and Halftone (Rowan student-run magazines), interned for Singularity Press (newly established self-publishing servicer on campus), and became a Fiction Editor for Glassworks (Rowan's literary magazine) learning the practice and procedure of editorial etiquette. With their graduate education, they are participating in the Teaching Experience Program which allows students to teach college composition courses as paid adjunct instructors. Despite being heavily focused on their education, Cat Reed is constantly looking for new opportunities to publish their own writing. As an undergrad, they took the Self-Publishing course offered at Rowan University which later sparked their interest in Singularity Press. They've been formally self-publishing works since 2018 and plan to release a new novel end of 2022 going into early 2023. Writing has been something Cat Reed has done since they were young, going back as far as verbally telling stories to their older sister. They hope that someday in the future their work will be accepted by a small press and maybe even a big publishing house but in the meantime, they are content with simply sharing stories in any way possible with small groups of readers.
Alyssa will be completing the 4+1 B.A Disaster Preparedness and Emergency Management & M.S.  Emergency and Threat Response Management program in May 2023. While completing her studies, she currently holds three internships with the Gloucester County Administrator's Office, Gloucester County Office of Emergency Management, and the New Jersey All-Hazards Incident Management Team.
Congratulations Honor Society Members and New Inductees!
Chi Sigma Alpha Student Affairs Honor Society

Chi Sigma Alpha is an international honors society comprised of graduate students, alumni, faculty, and student affairs professionals to promote and recognize excellence in academics, research, and service to the profession of student affairs. For more information or to apply, contact Dr. Dianna Dale at daled@rowan.edu. 

Congratulations to Spring 2022 new inductees of Chi Sigma Alpha, the Student Affairs Honor Society International!

Victoria Behr
Ashley Davis
Kirsten Dillman
Ashley Elmes
Liliana Ferrara
Justice Joi Harris
Sydney Hartman
Tyherrah Rogers
Alexis Wilson
Alpha Epsilon Lambda Graduate Honor Society

Alpha Epsilon Lambda was formed with the specific objective of recognizing the academic and leadership accomplishments of graduate and professional school students. For more information, visit Rowan's AEL webpage.

Congratulations to the Spring 2022 Rowan inductees to Alpha Epsilon Lambda, the National Honor Society of Graduate and Professional School Students!

Spring 2022 Inductees

| | |
| --- | --- |
| First Name | Last Name |
| Sandra | Akeret |
| Constantinos | Arhontoulis |
| Jacqueline | Beamen |
| Jessica | Beck |
| LaNiece | Brown |
| Stephanie | Ciecierski |
| Tonya | Clark |
| Michelle | Contarino |
| Daniela | DiGena |
| Dominique | Digiacomo |
| Michael | Donahue |
| Jonathan | English |
| Jessica | Erdelyi |
| Kylie | Fox |
| Robyn | Himelstein |
| Taylor | Kellar |
| Nicole | Kelso |
| Jocelyn | Klein |
| Liliana | Lemanowicz |
| JoAnn | McLaughlin |
| Nicole | Moore |
| Stacie | Mori |
| Suzanne | Mosko |
| Trisha | Munyon |
| Christel | Murray |
| Karen | Myrick |
| Jessica | O'Brien Roy |
| Danielle | Pierznik |
| Vanessa | Poggioli |
| Serena | Powell |
| Alycia | Radden |
| Laura | Radecki |
| Rosemary | Roberto |
| Kaniz | Roksana |
| Allyson | Rose |
| John | Salvatore |
| Sarah | Sharpe |
| Kellie | Stout |
| Samantha | String |
| Tyler | Swiggart |
| Susan | Tipperman |
| Lauren | Wallace |
| Valerie | Walters |
| Marium | Waqar |
| Hailey | Weaver |
| Molly | Worek |
What RU Up To?
We'd like to hear from you! Fill out this Google Form to tell us about your achievements. We'll give you a shout out on social media.