Dr. Navarra
Dr. Navarra
Rachel L. Navarra, Ph.D.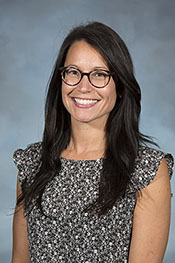 Assistant Professor
Cell Biology and Neuroscience
Rowan-Virtua School of Osteopathic Medicine and Graduate School of Biomedical Sciences
Science Center 226
856-566-6819
navarra@rowan.edu
Education:
Rutgers University, B.A., 2005
     Psychology, Cell Biology and Neuroscience
Drexel University College of Medicine, Ph.D. 2016
     Biomedical Graduate Studies: Pharmacology and Physiology
Biography
Dr. Navarra began her research career during her undergraduate study at Rutgers University studying neurotoxicant effects on monoaminergic systems in animal models of neurodegeneration. In the summer of 2005, Dr. Navarra completed a Behavioral Pharmacology Certificate Program at Wyeth Research, where she characterized the abnormalities of dendritic spine morphology and cognitive function of transgenic mouse models of Alzheimer's disease. She then held a Research Associate position at Wyeth Researchfrom 2005 – 2010 (beginning at Wyeth and ending at Pfizer following an acquisition in 2009). Dr. Navarra utilized multiple rodent assays of cognition, antipsychotic efficacy and side effect potential, and electroencephalography (EEG) to evaluate putative pharmacotherapies for schizophrenia, bipolar disorder, and Alzheimer's disease. Her work in industry has enabled the advancement of 7 compounds into clinical development.
Dr. Navarra's dissertation completed in April 2016 at Drexel University College of Medicine and post-graduate work has applied a combination of behavioral pharmacology and in-vivo electrophysiology to further understand the mechanisms responsible for psychostimulant drug-induced facilitation of early stage signal processing and its influence on behavioral outcomes during sensory-guided goal-directed tasks. Her combined academic and industrial experience investigating a broad range of therapeutic targets and model systems has provided Dr. Navarra with a great appreciation of how small manipulations of transmitter and receptor systems can have major consequences for neural circuit operations, sensorimotor integration, and behavior.
Currently an Assistant Professor at Rowan University, Dr. Navarra continues to pursue a path of research focused towards understanding and improving treatment strategies to address cognitive dysfunction associated with neuropsychiatric and neurodegenerative disorders, and more recently, following traumatic brain injury.