Projects
Projects
Ongoing Projects
Background To obtain a beneficial goal, individuals must predict the outcomes associated with specific stimuli, use that information to guide behavior, and adjust behavior accordingly to navigate ever-changing environments, a process termed behavioral flexibility. Many people with neuropsychiatric disorders and neurodegenerative show impaired behavioral flexibility, which may lead to poor-decision-making and severely limit the efficacy of current treatment strategies. 
In the West Lab, one way we measure the ability to flexibility shift behavior using a reinforcer devaluation task in which the expected value of an upcoming reward is decreased.  Animals with a history of psychostimulant exposure are impaired in reinforcer devaluation tasks by continuing to respond to a reward-associated cue after the reward has been devalued [i.e. behavior is inflexible]. 
We have use a brain stimulation method, transcranial alternating current stimulation (tACS) that allows us to tailor stimulation frequencies to directly entrain specific neuronal activity patterns based on neurophysiological alterations after a history of cocaine. We found that tACS treatment reestablished adaptive signaling in the PrL-NAc circuit and restored behavioral flexibility in a relatively noninvasive and frequency specific manner (see below)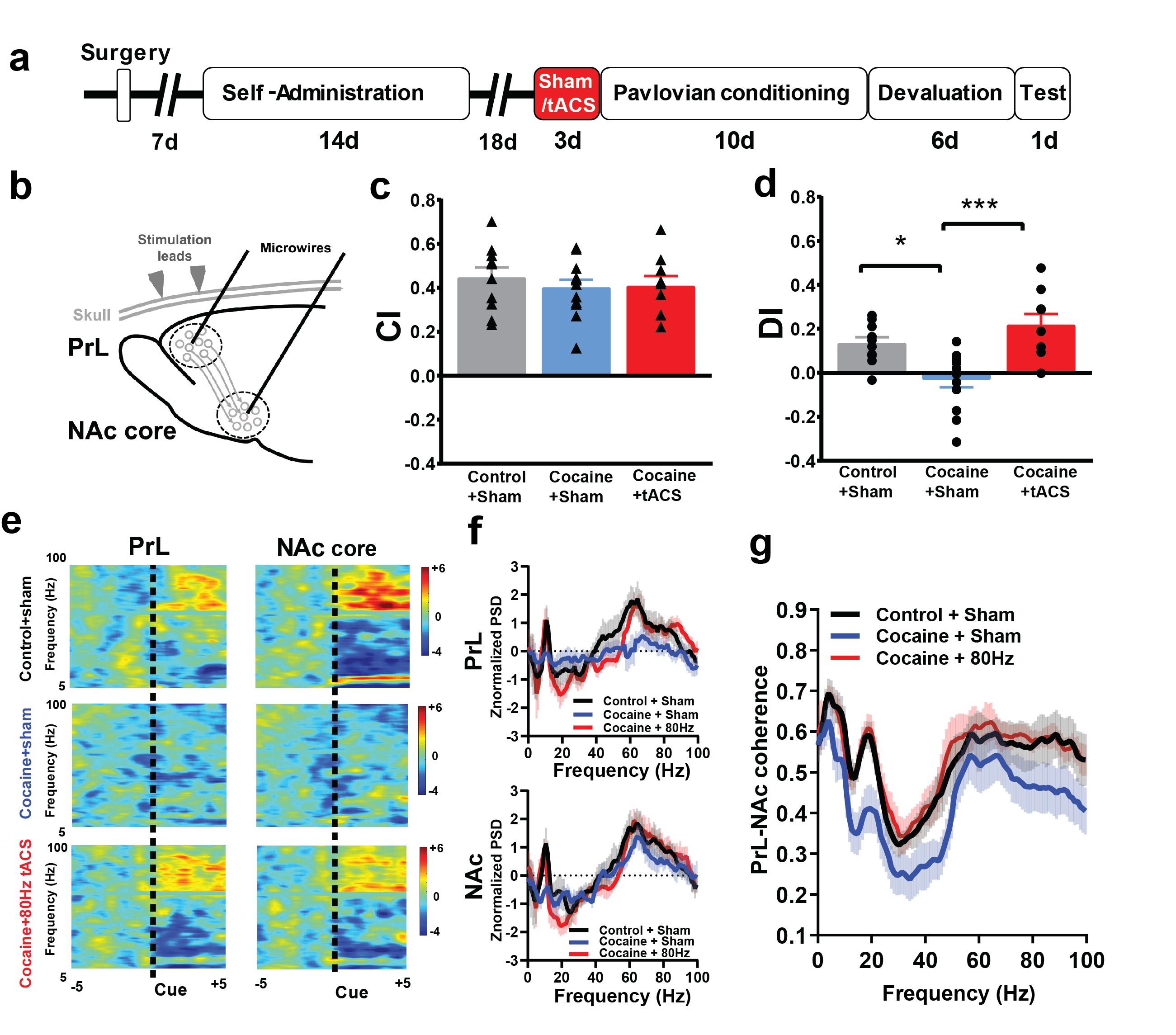 a) Timeline of experiment. b) cocaine exposure does not affect the ability of rats to approach a reward predictive cue during pavlovian conditioning (CI, conditioning index) c) cocaine exposure impairs the ability of rats to flexibility shift behavior post-devaluation (DI, devaluation index) and 80hz tACs stimulation rescues this deficit e-f) cocaine exposure dampens PrL and NAc oscillatory dynamics and coherent activity, which is restored with 80hz tACs stimulation.
Ongoing Projects
The role of the infralimbic cortex and dorsolateral striatum mediating cocaine-induced impairments in behavioral flexibility: The infralimbic cortex and dorsolateral striatum are implicated in the formation of transition from goal-directed to habitual control of behavior. In this project we will use in vivo electrophysiology and optogenetics to determine if activation of these circuits contribute to this transition in rats with a history of cocaine exposure. Funded by NIDA, R00DA042934
Neurophysiological alterations in distinct corticostriatal circuits mediating behavioral flexibility in Alzheimer's Disease rat models Alzheimer's disease is characterized by memory-loss, however, other cognitive symptoms often precede these deficits including cognitive flexibility and decision-making. In this project we will use in vivo electrophysiology to determine how the prelimbic/nucleus accumbens and infralimbic/dorsolateral striatum circuits are altered in rats developed to recapitulate Alzheimer's disease pathology. Funded by NIA, R00DA042934-03S1
Techniques The West Lab utilizes a multitude of techniques to probe circuit level function and dysfunction in neuropsychiatric and neurodegenerative disorders including in vivo electrophysiology (Plexon), Ca++ imagining (Inscopix), optogenetics, chemogenetics, and behavioral and cognitive tasks in awake and behaving rats.
The West Lab is currently funded through the NIH (National Institute on Drug Abuse and National Institute on Aging) and Rowan University SOM internal funds